No more girl child marriage in Nigeria
#ChildNotBride
The Reach represents the number of unique users potentially exposed to our message: the calculation is done by adding up the followers of users who have tweeted our campaign, users who have visualized the online advertising and the estimate number of users who have seen our campaign thanks to traditional media actions.
Reach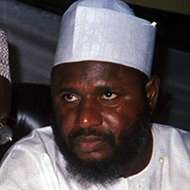 WW
recipient
Ahmed Yerima
Senator of the Federal Republic of Nigeria
No more child marriage, delete Section 29 (4) (b) of the Nigerian Constitution!
Be a part of it. We need your contribution.
act now
What do you think?


Share your opinion with other supporters!
Refusing to delete Section 29 (4) (b) of the Nigerian Constitution, the Senate of the Federal Republic of Nigeria is preserving the legality of girl child marriage, stating that girls reach maturity when they marry, not when they turn 18 years old. Senator Alhaji Ahmed Rufai Sani Yerima, former governor of Zamfara State, is one of the main promoters of underage girl marriages. These girls are treated like slaves, they must work all day in the fields, collect water and firewood and cook for all the family. Most of them aren't allowed to go to school anymore once they get married and, if they break the rules, they get beaten up by their husbands. Moreover, they are forced to have as many children as they can, even if they are just 14 or 15 years old.
Nigeria is among the countries with the highest child marriage rates in the world. According to the United Nations, one in five girls are married before turning 15. Senator Yerima was also accused of marrying an underage girl, but he managed to avoid arrest by marrying under the Islamic Law.
Are you Ahmed Yerima?
Do you want to know more about all the messages you are receiving? Do you want to leave a reply to MegaShouts users? Send an email to
info@megashouts.org
Are you Ahmed Yerima?
Do you want to know more about all the messages you are receiving? Do you want to leave a reply to MegaShouts users? Send an email to
info@megashouts.org
act now