@jensstoltenberg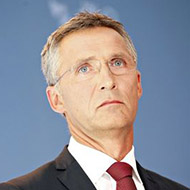 WW
recipient
Jens Stoltenberg
NATO Secretary General
Clear the Afghan territory from unexploded ordnance!
Be a part of it. We need your contribution.
act now
What do you think?


Share your opinion with other supporters!
After decades of war, Afghanistan is full of unexploded ordnance: landmines, shells, bombs and rockets are scattered across the whole Afghan territory, representing a high level danger for the population. NATO has to take responsibility for removing unexploded bombs left by its soldiers, as the Alliance's combat mission in the country is coming to an end.
Children are most at risk, due to their curiosity and the fact they often play in unmarked minefields. The US-led forces have to give more information on where unexploded ordnance is and have to help removing the items.
"They used weapons and they know that unexploded ordnance will be left behind. This information is life-saving", said Mohammad Sediq Rashid, director of the Mine Action Coordination Centre for Afghanistan (MACCA). "We have raised this issue with ISAF. So far, no action has been taken and they are leaving. If they don't give it to us, it will be very hard. It will take time, more money, and casualties".
Are you Jens Stoltenberg?
Do you want to know more about all the messages you are receiving? Do you want to leave a reply to MegaShouts users? Send an email to
info@megashouts.org
Are you Jens Stoltenberg?
Do you want to know more about all the messages you are receiving? Do you want to leave a reply to MegaShouts users? Send an email to
info@megashouts.org
act now