@GovernorPerry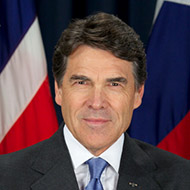 US
recipient
Rick Perry
Texas' 47th Governor
Abolish the death penalty! It is cruel, inhuman and violates the right to life as proclaimed in the Universal Declaration of Human Rights.
Be a part of it. We need your contribution.
act now
What do you think?


Share your opinion with other supporters!
Due to its use for executions in the US, the UK introduced a ban on the export of sodium thiopental - the substance used for executions - in December 2010, after it was established that no European supplies to the US were being used for any other purpose. The restrictions were based on "the European Union Torture Regulation (including licensing of drugs used in execution by lethal injection)". From 21 December 2011 the European Union extended trade restrictions to prevent the export of certain medicinal products for capital punishment, stating that "The Union disapproves of capital punishment in all circumstances and works towards its universal abolition". This ban has lead to a series of executions gone wrong, with the inmates agonizing for hours before death. This, along with many other ethical, religious and social reasons, is the motive behind the request for the abolition of the capital punishment in Texas, which by the way is the State with the highest number of executions in the United States of America.
Are you Rick Perry?
Do you want to know more about all the messages you are receiving? Do you want to leave a reply to MegaShouts users? Send an email to
info@megashouts.org
Are you Rick Perry?
Do you want to know more about all the messages you are receiving? Do you want to leave a reply to MegaShouts users? Send an email to
info@megashouts.org
act now