@onetoughnerd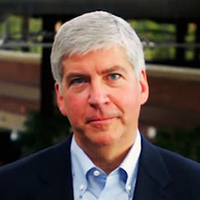 US
recipient
Governor Rick Snyder
Governor of Michigan
Take immediate action to solve the outrageous Flint water crisis!
Be a part of it. We need your contribution.
act now
What do you think?


Share your opinion with other supporters!
The Flint water crisis is an ongoing drinking water contamination crisis in Flint, Michigan, in the United States.
In 2014, the City of Flint switched its water supply from the City of Detroit (which had supplied it for nearly half a century) to the Flint River. The move was an effort to save costs. It was viewed as a temporary fix, given the river's long history as a dubious source of water. An ultimate switch to a permanent Flint water supply would be provided after the Karegnondi Water Authority's construction of a pipeline from Lake Huron, thereby eliminating Flint's long-time dependence on Detroit city water.
After the change in water source, the city's drinking water had a series of issues that culminated with lead contamination, creating a serious public health danger. The corrosive Flint River water caused lead from aging pipes to leach into the water supply, causing extremely elevated levels of lead. As a result, between 6,000 and 12,000 residents had severely high levels of lead in the blood and experienced a range of serious health problems. The water change is also a possible cause of an outbreak of Legionnaires' disease in the county that has killed 10 people and affected another 77.
Source: Wikipedia
Are you Governor Rick Snyder?
Do you want to know more about all the messages you are receiving? Do you want to leave a reply to MegaShouts users? Send an email to
info@megashouts.org
Are you Governor Rick Snyder?
Do you want to know more about all the messages you are receiving? Do you want to leave a reply to MegaShouts users? Send an email to
info@megashouts.org
act now