Extend to prisoners the right to vote
#LetPrisonersVote
The Reach represents the number of unique users potentially exposed to our message: the calculation is done by adding up the followers of users who have tweeted our campaign, users who have visualized the online advertising and the estimate number of users who have seen our campaign thanks to traditional media actions.
Reach

@MoJGovUK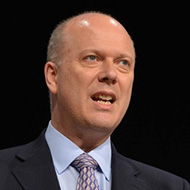 GB
recipient
Chris Grayling
UK Secretary of State for Justice
Issue a law that allows prisoners to vote now!
Be a part of it. We need your contribution.
act now
What do you think?


Share your opinion with other supporters!
Prisoners in the UK haven't the right to vote yet. It's the fourth time the European Court of Human Rights has rules against the UK's ban on giving convicted prisoners the right to vote. Both coalition during time have failed to legislate on this matter, although various bills have been debated. The European Court of Human Rights ruled there has been a violation of the right to a free election, as per Article 3 of the European Convention on Human Rights. "The government has always been clear that it believes prisoner voting is an issue that should ultimately be decided in the UK. However we welcome the court's decision to refuse convicted prisoners costs or damages." said the Ministry of Justice spokesman.
Are you Chris Grayling?
Do you want to know more about all the messages you are receiving? Do you want to leave a reply to MegaShouts users? Send an email to
info@megashouts.org
Are you Chris Grayling?
Do you want to know more about all the messages you are receiving? Do you want to leave a reply to MegaShouts users? Send an email to
info@megashouts.org
act now