@LaborSec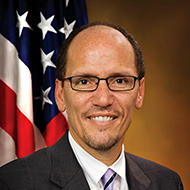 US
recipient
Tom Perez
U.S. Secretary of Labor
Please, give every U.S. woman access to paid maternity leave benefits!
Be a part of it. We need your contribution.
act now
What do you think?


Share your opinion with other supporters!
Paid maternity leave is a period of absence from employment granted to all pregnant women and to those who have newborn babies. This can deeply affect children's health in several ways. Mothers can better monitor children's needs and improve duration of breast feeding, increasing disease prevention. According to some studies, an additional week of maternity leave, significantly reduces infant mortality.
Currently, only in seven states the government can grant access to longer or better forms of maternity or family leave. For example, California, Washington and New Jersey require private sector employers to pay workers just with partial replacement rates. In the District of Columbia, mothers can take advantage of paid leave through Disability Insurance.
As President Barack Obama said: "The United States is the only developed nation without paid maternity leave. In fact, it's one of the only countries without any paid leave". The U.S. Labor Department released a video that compares two pregnant women, one from Germany and one from the U.S.. Both work full time, but just the first will get 14 weeks of paid maternity leave. The Labor Department is going to support four states carry on studying new paid leave policies.
Are you Tom Perez?
Do you want to know more about all the messages you are receiving? Do you want to leave a reply to MegaShouts users? Send an email to
info@megashouts.org
Are you Tom Perez?
Do you want to know more about all the messages you are receiving? Do you want to leave a reply to MegaShouts users? Send an email to
info@megashouts.org
act now