@PMNawazSharif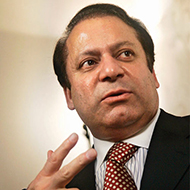 WW
recipient
Mian Nawaz Sharif
Prime Minister of Pakistan
Stop school attacks in Pakistan, provide more protection for children!
Be a part of it. We need your contribution.
act now
What do you think?


Share your opinion with other supporters!
132 children were killed during an attack by Pakistani Taliban fighters on a school in Peshawar. Seven armed men in paramilitary uniforms broke into the school and attacked with bombs and gunfire, as if they were at war. Some of the youngest students managed to run away, but the majority of the senior students weren't so lucky, as the suicide bombers had been given orders to allow only the youngest to leave.
"The man with big boots kept on looking for students and pumping bullets into their bodies. I lay as still as I could and closed my eyes, waiting to get shot again", said Shahrukh Khan, one of the survivors who is 16 years old. The attack was in retaliation from an ongoing Army operation against the Taliban fighters as the students of the school are for the most part Army officers' children.
Are you Mian Nawaz Sharif?
Do you want to know more about all the messages you are receiving? Do you want to leave a reply to MegaShouts users? Send an email to
info@megashouts.org
Are you Mian Nawaz Sharif?
Do you want to know more about all the messages you are receiving? Do you want to leave a reply to MegaShouts users? Send an email to
info@megashouts.org
act now