@NickyMorgan01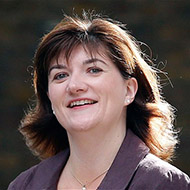 GB
recipient
Nicky Morgan
U.K. Minister for Women and Equalities
Allow civil partnerships to be converted to marriages in Scotland!
Be a part of it. We need your contribution.
act now
What do you think?


Share your opinion with other supporters!
A same-sex couple in a civil union from Northern Ireland has been said they need to separate for two years before getting married in Scotland. A new Scotland law in force since December allows civil partnerships to be converted into marriages but things are not actually so easy. Sean and John met in 2000 and several years later they had a civil union in Northern Ireland. They became to make plans to get married and set the date, but the registrar contacted them to say they couldn't legally marry. "It transpired that it's actually not legal to change our civil partnership into a marriage in Scotland, because we had a civil partnership in Northern Ireland. The advice we were given was that we could dissolve our civil partnership - get divorced to get married - and we'd have to live apart for maybe two years. It was just ludicrous", said Sean.
Are you Nicky Morgan?
Do you want to know more about all the messages you are receiving? Do you want to leave a reply to MegaShouts users? Send an email to
info@megashouts.org
Are you Nicky Morgan?
Do you want to know more about all the messages you are receiving? Do you want to leave a reply to MegaShouts users? Send an email to
info@megashouts.org
act now