The UK should welcome more refugees
#RefugeesWelcome
The Reach represents the number of unique users potentially exposed to our message: the calculation is done by adding up the followers of users who have tweeted our campaign, users who have visualized the online advertising and the estimate number of users who have seen our campaign thanks to traditional media actions.
Reach

@Number10gov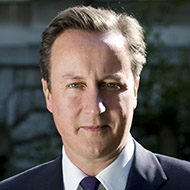 GB
recipient
David Cameron
Prime Minister of the United Kingdom
The UK must welcome its share of refugees and political asylum seekers!
Be a part of it. We need your contribution.
act now
What do you think?


Share your opinion with other supporters!
The war that broke out in Syria compelled thousands of civilians to leave their home and massively flee to Europe in search for safety. The refugee crisis in an issue that cannot be ignored any longer. Britain it is not offering proportional asylum to refugees in comparison with other European countries, and therefore it's absolutely necessary to increase support for migrants escaping from horrendous situations.
Are you David Cameron?
Do you want to know more about all the messages you are receiving? Do you want to leave a reply to MegaShouts users? Send an email to
info@megashouts.org
Are you David Cameron?
Do you want to know more about all the messages you are receiving? Do you want to leave a reply to MegaShouts users? Send an email to
info@megashouts.org
act now