@TomCoburn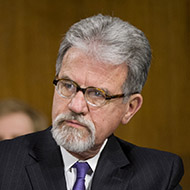 US
recipient
Sen. Tom Coburn M.D.
Senator of the United States
Save our soldiers, pass the veterans' suicide prevention bill!
Be a part of it. We need your contribution.
act now
What do you think?


Share your opinion with other supporters!
Retiring US Senator Tom Coburn, Republican party, blocked the measure regarding mental health care for veterans suicide prevention. Despite the USA has already paid a high price in terms of human lives, veterans are still waiting for this legislation. The measure costs $22 million over five years but supporters said the Department of Veteran Affairs could absorb the expenses within the existing budget. Coburn claims that the measure "throws money and doesn't solve the real problem". On the other hand, it's pretty clear that something needs to be done in this sense and that these delays don't help solving the issue. It's crucial to improve mental health care for US veterans as, according to data provided, the rate of suicides among veterans is 22 per day.
Are you Sen. Tom Coburn M.D.?
Do you want to know more about all the messages you are receiving? Do you want to leave a reply to MegaShouts users? Send an email to
info@megashouts.org
Are you Sen. Tom Coburn M.D.?
Do you want to know more about all the messages you are receiving? Do you want to leave a reply to MegaShouts users? Send an email to
info@megashouts.org
act now