Israel condemned for abuses: stop EU-Israel treaty
#StopEuIsraelTreaty
The Reach represents the number of unique users potentially exposed to our message: the calculation is done by adding up the followers of users who have tweeted our campaign, users who have visualized the online advertising and the estimate number of users who have seen our campaign thanks to traditional media actions.
Reach

@FedericaMog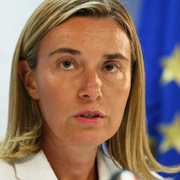 WW
recipient
Federica Mogherini
High Representative of the EU for Foreign Affairs and Security Policy. Vice President of the Eu Commission
Campaign created by

Luisa Costalbano

Suspend the EU-Israel Treaty on the basis of Article 2 of the EU-Israel Association Agreement and the statement of Lisbon Treaty!
Be a part of it. We need your contribution.
act now
What do you think?


Share your opinion with other supporters!
Israel has committed serious violations of international law and international humanitarian law against the Palestinians - as documented in particular by various bodies of the United Nations, including the Human Rights Council, that have condemned Israel repeatedly. Therefore the European Union must suspend its Association Agreement with Israel until it complies with international law. Article 2 of the EU Association Agreement with Israel states that relations between the EU and Israel must "be based on respect for human rights and democratic principles". The Lisbon Treaty states that the Union's external actions must be guided by the principles of fundamental freedoms, respect for human dignity, equality and solidarity, democracy, the rule of law, the UN Charter and international law. By continuing to award Israel preferential access to EU markets and to EU programs, funding it, the EU is providing material support and complicity to the crimes of Israel.
Are you Federica Mogherini?
Do you want to know more about all the messages you are receiving? Do you want to leave a reply to MegaShouts users? Send an email to
info@megashouts.org
Are you Federica Mogherini?
Do you want to know more about all the messages you are receiving? Do you want to leave a reply to MegaShouts users? Send an email to
info@megashouts.org
act now